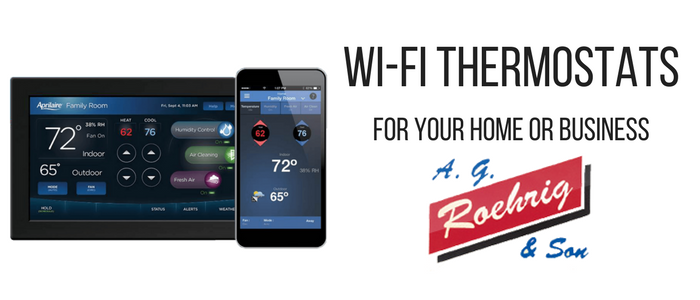 Turn Your Home into a Smart Home with Wi-Fi Thermostat Systems
Some simple WiFi thermostats, like the popular Nest thermostat, are simply auto-learning thermostats that don't provide you with full programming capabilities.
A full-fledged, higher quality WiFi HVAC control system will give you more benefits of controlling your heating, air conditioning, and indoor air quality products all on one screen instead of dealing with a separate thermostat, dehumidistat, and humidistat.
Humidification, dehumidification, and indoor air cleaning controls call all be accessed all on one screen with the right WiFi thermostat system.
WiFi Thermostat Promotion
We have an ongoing promotion that will include a WiFi thermostat with full HVAC system installations. However, depending on the system and what it is that you're looking to do, I may recommend upgrading that WiFi thermostat to a full WiFi system that gives you better usability and more features.
The Importance of Wires for WiFi Thermostats
The Nest thermostat, for example, should be installed with a minimum of five (5) wires and most likely you only have four (4) wires running between the thermostat and the furnace.
With a WiFi thermostat, ideally you want a minimum of five wires. Chances are, 9 times out of 10, people don't have them so, we have to run new thermostat wire.
However, with some of the better, higher grade WiFi thermostats that we put in, you only need three (3) wires which takes away the added cost of having to run new thermostat wires from the furnace to wherever the thermostat is.
You also gain a control module at the furnace with a more robust WiFi system that makes installation easier.
Instead of having to run all of our wiring back to the furnace we can now simply run wires between the furnace and the control module and everything external to the system gets wired into the control module including your:
Fresh air damper for the house
Anything external along those lines all gets wired into the control module giving you greater control of your system, including from your smartphone.
From 5 Wires to 3 Wires
The fifth wire is a common wire, that would be the other side of the 24 volt circuit where a regular conventional thermostat has batteries.
Those batteries are used to power the thermostat, to power the LCD display on it which is usually just a simple black and white display.
The batteries run that conventional thermostat.
On a WiFi thermostat you're doing far more with it, transmitting signals and receiving signals, so batteries would not last very long.
That's why you need a fully wired 24 volt circuit to a WiFi thermostat, which is a hot 24 volt wire and a common wire going back to the furnace; that's what the fifth wire is for.
On a communicating WiFi system, the thermostat display up in the house and the module down in the basement at the furnace are constantly talking back and forth so, I don't need to have a million and one wires running up to the display.
I can let the thermostat and the control module sit there and talk all day long and tell each other what they want each other to do and it the module will force the furnace to do it via the display and we can get away with doing that with the only three wires instead of having five .
Installing a WiFi Thermostat System
We can usually add a WiFi system to most furnaces installed in the last 10 to 15 year. This WiFi system isn't proprietary, limited to one furnace manufacturer for example – we can make this fit a wide range of installation scenarios.
The associated software that you would use your phone, tablet, or laptop will automatically notify you of any updates.
As far as installing a WiFi system separately or together with a new HVAC system, you'll save some money if you do it all at the same time while we're at your home or business.
Aprilaire WiFi Thermostat
We like the Aprilaire WiFi thermostats because it's not a proprietary piece of technology, like many of the newer WiFi thermostats that are coming on the market, and we can install it in a wide range of applications.
It's a very uncommon situation where we will have to install a manufacturer specific WiFi thermostat and if that is the case, it's only done to gain the full efficiency out of the system.
One of our favorites is the Aprilaire 8920W which gives you a large touchscreen and all the controls that you would need.
Benefits of WiFi Thermostats
One of the major benefits of a WiFi thermostat is that it will alert you via text or email when there is something wrong.
One of our customers was away on vacation in the winter when their boiler system failed and all the water and all of the pipes in the house froze. The repair job cost close to $20,000. You'll spend a fraction of that on a solid WiFi thermostat system which will protect you in the long run.
WiFi thermostats are also easier and faster to program compared to a programmable thermostat. Plus, if you're going to be gone for most of the day, you don't have to guess when you might be back and program an adjustment to the temperature at a specific time. Simply use your smartphone to turn up the heat when you're on your way back and you'll come home to a comfortable, relaxing environment.
Contact us today to make an appointment for a WiFi thermostat system installation.