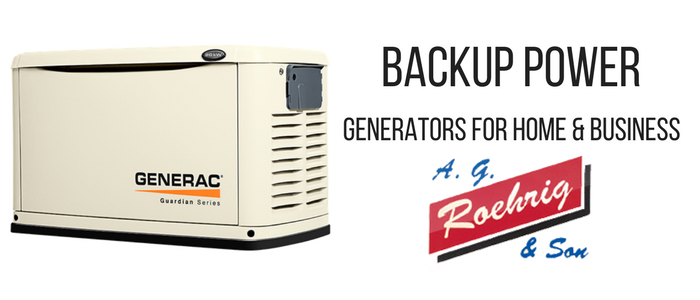 Get Ready for Winter Storms with a Backup Power Generator
Losing power even for a few hours during a storm or power outage can be costly or dangerous for your home or business.
We install residential and commercial backup generators to help keep the things that are important to you safe during power outages, like your:
Food: Keep the fridge and freezer running so your groceries don't spoil.
Shelter: Stay comfortable in your home by keeping the heat or air conditioner on.
Security: Security and alarm systems stay on so you don't become a target for theft and vandalism.
Customers: Businesses can keep the lights on and the equipment running so you don't lose any customers.
Benefits of Residential and Commercial Generator Installations
All it takes is the first major storm of the season to remind people that they need a generator. When people know a storm is incoming, frenzies start up at home improvement stores, lines at the grocery store get even longer, and generators sell out fast. Don't wait until it's too late, get a backup generator installed today to start enjoying these benefits:
Automatic Operation
You don't have to worry about having to be there to start and stop your backup generator – it'll start up automatically whether you're home or away.
Refueling Not Necessary
Your backup generator runs on your existing natural gas or LP fuel supply so you don't have to worry about pre-filling gas cans or having to make a choice between using your snowblower or powering your generator.
Power Directly to Your Home or Business
We install Generac backup generators that safely deliver power right to your electrical panel so you'll never have to run an extension cord through a window or door again.
Check out the video below for an installation and maintenance example.
Generator FAQ's
Has Your Generator Stopped Working?
If your generator is running and then stops producing electricity, it may have experienced an overload. If it's not running at all, you may have forgotten to do your preventative maintenance checks. A. G. Roehrig and Son will repair and maintain your residential or commercial backup generator and we also offer 24-hour emergency service.
How Much Does A Residential or Commercial Generator Cost?
Residential and commercial generators are very similar in cost for installation. Layouts and applications will be unique. For example, the length of gas end electrical runs can change the scope of the work from one project to the next.
There are lots of variables. Contact us today for a generator installation quote in Buffalo and Western New York.